Food Sales Business
Food Sales Business
Expanding into production areas and fishing grounds around the world to strengthen procurement capabilities.
Yokohama Reito's Food Sales Business has a long history of identifying excellent production areas and is expanding into production areas and fishing grounds around the world.
We have established a centrally-managed business style from the selection of production areas and producers around the world by our experienced sales managers, to purchase, and then sale. We aim to build a system that ensures the safe and stable supply of marine, agricultural, and livestock products at appropriate prices by utilizing our globe-spanning networks and wealth of experience and credibility, as well as by streamlining operations.
Stable Supply By Establishing Sales Offices in Production and Consumption Areas
Consumption Area Sales Offices
We have opened consumption area sales offices in Japan's major cities in order to meet the needs of food product manufacturers and wholesale businesses by supplying processed foodstuffs and product ingredients in a timely manner.
This also enables us to demonstrate our expertise in procurement through overseas networks.
We can meet the needs of consumptions areas by delivering optimal ingredients from production areas around the world, such as shrimp from Southeast Asia, salmon trout, Atlantic mackerel, and horse mackerel from Northern Europe, and pork and chicken from the Americas.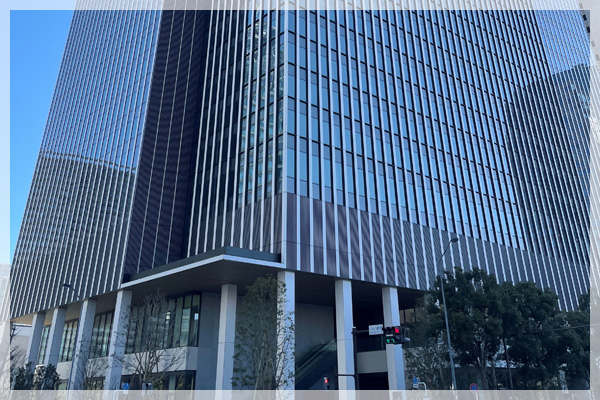 Production Area Sales Offices
We have opened production area sales offices in regions that produce marine and agricultural products, such as fishing ports and farming areas, both in Japan and overseas.
We have established a unified system from production through to sale that facilitates the stable supply of high quality, delicious foodstuffs. When supplying foodstuffs, we use the eye we have developed as a food retailer to carefully assess marine, livestock, and agricultural products, realizing a supply system that is resilient to changes in the environment.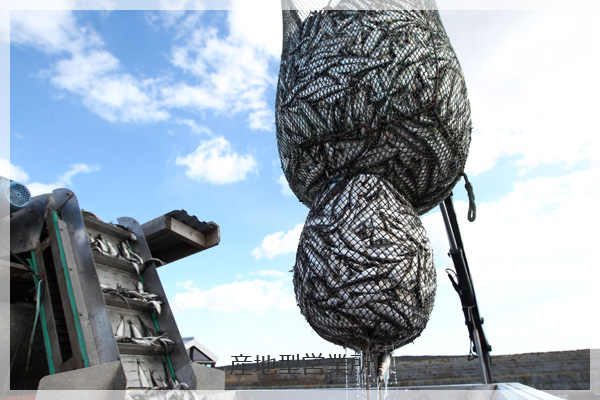 Yokohama Reito's "Eye," Determining Superior Products Around the World
Marine Products Business
We import high quality foodstuffs procured from all over the world, including shrimp from Southeast Asia and salmon trout from Northern Europe, and sell them to food product manufacturers and wholesalers in Japan.
We also utilize our network of sales offices to sell marine products caught in Japanese production areas, such as salmon and scallops, across Japan and overseas.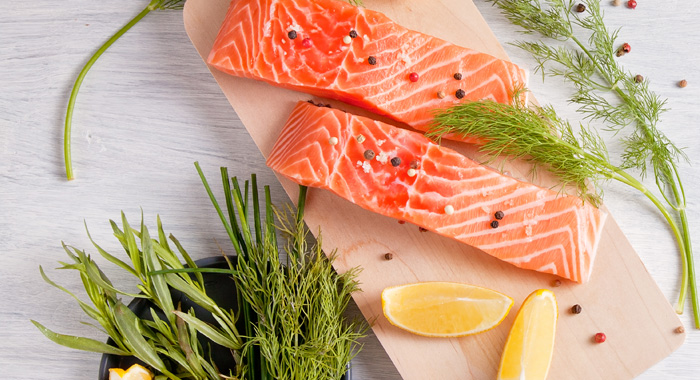 Livestock Business
We have established sales offices in Tokyo, Nagoya, Osaka, and Fukuoka and these procure livestock staples such as pork, chicken, and beef from areas including North America, Brazil, and Australia. These are then sold to food manufacturers as processing ingredients or supplied to a wide range of buyers, including to restaurants and volume retailers through wholesalers and processing businesses.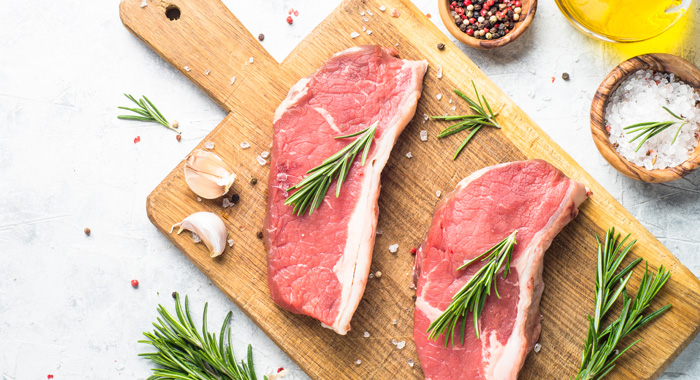 Agricultural Produce Business
Our sales office in Tokachi, Hokkaido sells agricultural produce grown in the vast arable lands of Hokkaido to businesses all over Japan, including food product manufacturers. We are also constantly working to expand the sales channels through which we supply safe, reliable, and delicious Hokkaido agricultural produce.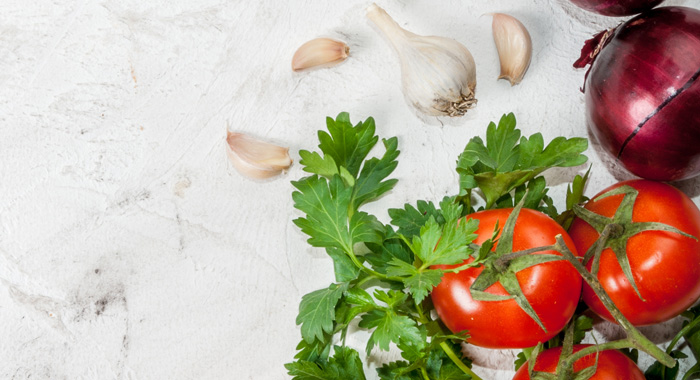 Tokachi Green Owners Club "Daichi"
Yokohama Reito has partnered with Tokachi 21st Century, a farmers cooperative that promotes agricultural produce from Tokachi to consumers across Japan, to implement the Tokachi Green Owners Club "Daichi" shared contract farming system.
Tokachi Green Owners Club "Daichi" is a system that enables the shared ownership of arable land in the Tokachi area, with owner members receiving a share of the seasonal vegetables harvested.
Growing our Overseas Network and Expanding into New Business Areas
In recent years, Yokohama Reito has set the goal of strengthening our global strategic capabilities in a way that leverages our overseas network. Therefore, we are actively expanding overseas.
We aim to supply delicious Japanese food products overseas and delicious food products from around the world to Japan. We are always working to ensure a stable supply of high quality foodstuffs all over the world.
One of Yokohama Reito's strengths is the procurement capabilities provided by our extensive trading network, allowing us to respond accurately to product needs in Japan and overseas.
We are expanding our network of major suppliers overseas, including in Southeast Asia and Northern Europe, as well as Russia, North America, South America, and Australia.
We also procure internationally-renowned Japanese marine, livestock, and agricultural products widely from across Japan, primarily through our production area sales offices, and we are advancing the supply of these around the world.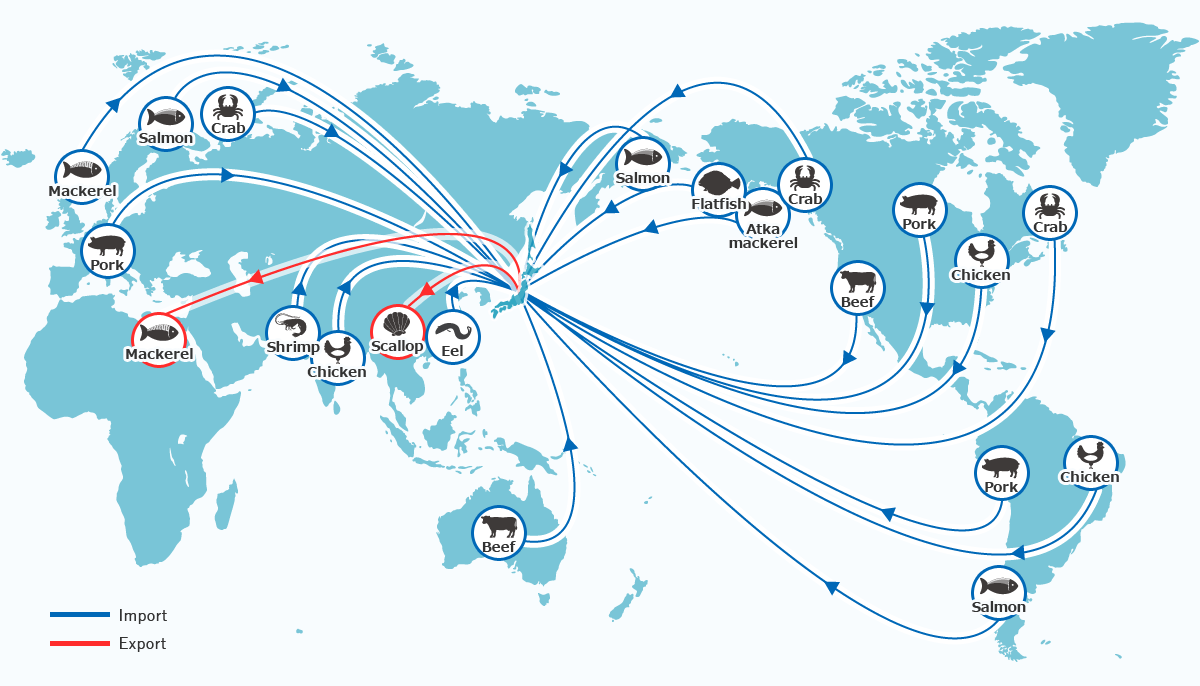 Accurately Understanding the Balance of Supply and Demand in Markets
When supplying imported food products, it is important to have an accurate understanding of the balance of the variety and trade volume of products procured overseas compared to domestic demand. Catch and production volumes are affected by the natural environment, including weather, while market needs also vary according to area and season. By swiftly and accurately collecting various types of information from suppliers around the world, we are able to maintain stable supplies and appropriate prices.
Strengthening the Foundation for Full-scale Overseas Expansion
Yokohama Reito has been building an organizational structure that will provide a strong foundation for overseas expansion.
1989
Established Thai Yokorei Co., Ltd and launched a sales office in Bangkok to operate as our hub in Southeast Asia.
2008
Consolidated Seiwa Food Corporation as a subsidiary, changing its name to Clover Trading Co., Ltd. in 2010.
2009
Bought the business operations of a marine products trading company with a broad overseas network and later consolidated it as a subsidiary under the name Alliance Seafoods Inc.
Developed it into a contact point for the import and export of marine products from and to North America, South America, Europe, Russia, and other regions.
2020
Fully absorb group companies Clover Trading Co., Ltd. and Alliance Seafoods Inc. into Yokohama Reito's main business to integrate operations.
Planned the further strengthening of our overseas business.
Launching a Salmon Trout Aquaculture Business in Norway
2015
In 2015, Yokohama Reito Group concluded a business alliance with the major Norwegian marine products processing company Hofseth International AS.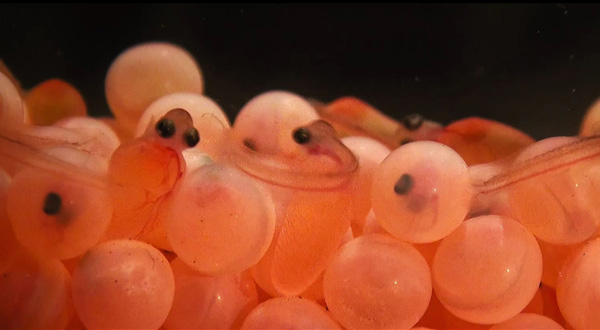 Carefully managed incubation and cultivation
2016
In 2016, we acquired all shares in Syvde Eiendom AS, which owns three marine product processing facilities in Norway.
Also, together with Hofseth, we acquired all shares in Fjordlaks Aqua AS (currently Hofseth Aqua AS), a company engaged in farming salmon trout. In this way, we have established a vertically integrated supply chain in Norway spanning from production through to processing and sales.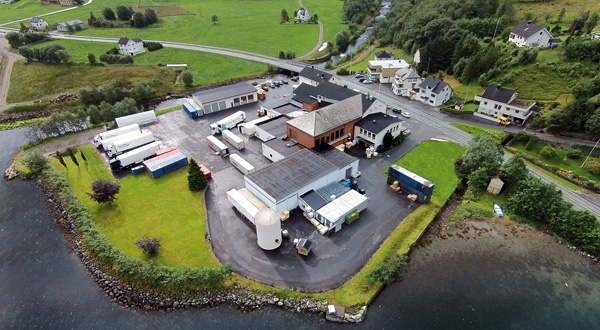 A Syvde Eiendom AS marine product processing facility
A fish pen for farming trout

Monitoring the status of all fish pens

A hygienic processing facility
Norwegian salmon is popular around the world. These salmon grow under ideal weather conditions and the shape of the fjords provide water that is deep enough to prevent food deposits and most contagious diseases.
Our fish farms use methods such as the thorough management of growing environments using IT and the provision of carefully selected foods to raise healthy, delicious salmon containing high-quality fat.
Yokohama Reito Group's salmon products are produced fully inhouse from farming through to processing. These products, especially our smoked salmon, are free from preservative solutions and additives, and are appraised as being truly delicious when garnished with only a little salt and sugar. We sell to restaurants and volume retailers all over Japan.