Refrigerated Warehousing Business
Refrigerated Warehousing Business
We are in an era of "food globalization" in which dining tables feature food products from across Japan and around the world.
Through our Refrigerated Warehousing Business, Yokohama Reito aims to become a "food infrastructure company" that can reliably deliver high quality food to anywhere in Japan.
Our refrigerated warehouses are built on key sites for food delivery, such as ports, roads, production areas, and consumption areas.
We leverage our advanced technology and expertise to store a variety of foods, including frozen products and fresh produce such as marine, agricultural and livestock products, at optimized temperatures and under ideal operating conditions.
Combining refrigerated warehousing, storage space, and logistics centers to a higher dimension
Refrigerated warehousing requires a wide range of conditions to be met, so here we introduce three important ones.
These conditions need to be met at all times in order to realize stable food delivery.
Facilities that enable products to be stored for long periods without a loss in quality.
Capacity for storing large variety and volumes of products.
Logistics services that are optimized to meet customers' needs
Yokohama Reito has established strict standards for maintaining and improving facilities that can meet these conditions, known as "Yokohama Reito Quality." We also actively establish new facilities and work to make operations more advanced in order to increase storage capacity.
We have divided Japan into six regions (blocks) to realize an operational structure that can accurately cater for the needs of each region, enabling us to deliver swift, high-quality logistics services.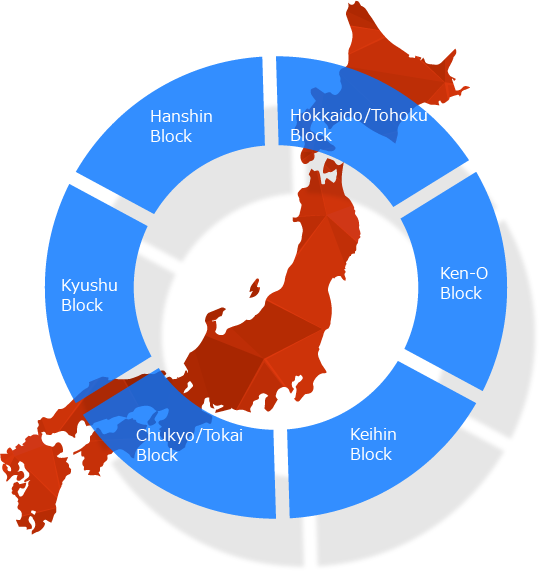 Meiko Logistics Center (Chukyo/Tokai Block)
Tokyo Haneda Logistics Center (Keihin Block)
Yokohama Reito's Leading Refrigeration Technology and Storage Systems
Natural Convection Cooling Method
One of the main characteristics of Yokohama Reito's refrigerated warehouses is our Natural Convection Cooling Method.
This method involves cooling the ceiling to create a natural convection current that refrigerates the entire warehouse, preventing uneven cooling and freezer burn caused by cold air blasts that hit only some of the food products.
As there is minimal variation in temperature and humidity, we are able to maintain products at their optimal quality, and storing marine products has been one of our particular strengths since the company was founded.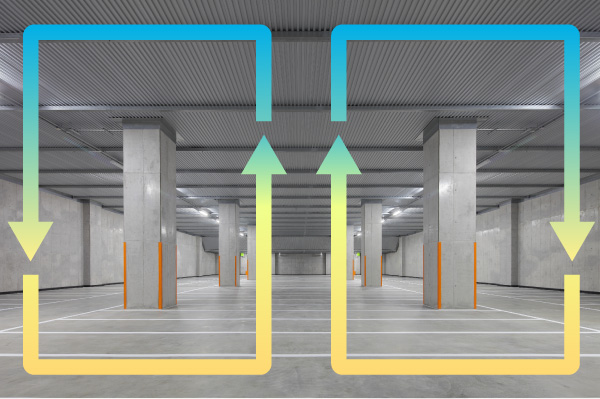 Movable Racks (Cargo Navigation)
We have realized a swift and accurate system that enables us to carry out detailed lot management while also significantly reducing the amount of time required for warehouse operations such as loading and unloading, and picking work.
The system can handle both small and large lots.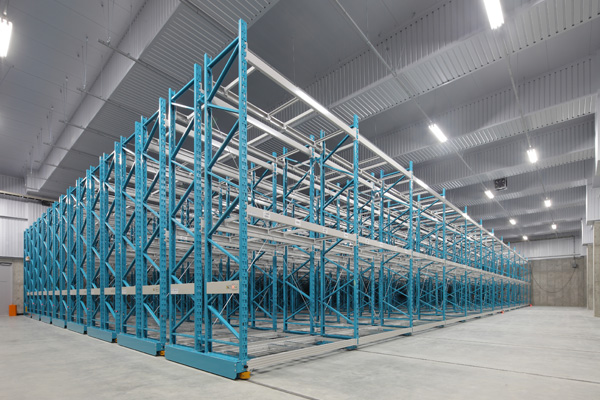 Low-temperature Positive-pressure Platforms
Unloading platform atmosphere is also an important factor in ensuring quality during storage.
We use airtight dock shelters and low-temperature platforms that maintain a constant temperature to keep air pressure positive, enabling us to protect our customer's valuable cargo from contamination by dust and outside air.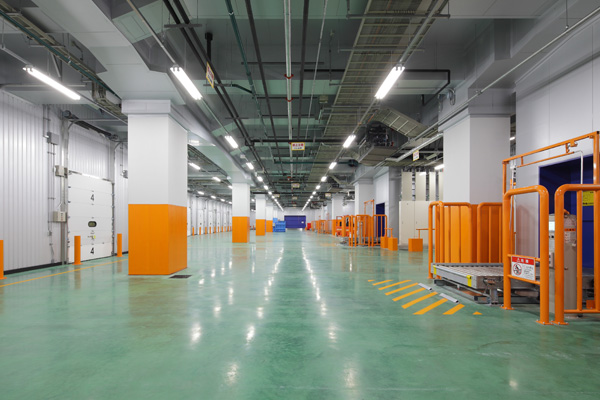 Semi-ultralow Temperature Freezers
Our semi-ultralow temperature (F2-level: up to -40˚C) warehouses maintain product quality using a ceiling hairpin coil cooling method that is gentle on the stored cargo.
We provide a storage environment that is optimally suited to the food products within.
A Diverse Range of Chilled Storage
The highest demand we receive is for chilled storage which can meet the wide range of needs required by food products. We have established chilled storage areas that can be set between -10˚C and 10˚C in accordance with the food products being stored and we are fully prepared to deliver an optimal environment for storing difficult products such as vegetables.
Quick Freeze Storage
Our warehouses include frozen storage areas offering high-performance cooling that can reduce the temperature to as low as -35˚C instantaneously.
This enables us to provide quick freezing that preserves the quality of marine, agricultural, and livestock products.
Truck Reservation System
Customers can reserve arrival times through a computer or smartphone, and we guide trucks to the correct berth through a short message.
lso, the status of trucks can be monitored using screens set up in offices, enabling the smooth receipt and delivery of cargo.